Like with the Whiteline products (see post below), I've long been a fan of upgrading to high performance Polyurethane suspension bushes, and Powerflex (http://www.powerflex.co.uk) are the market leaders. They offer a huge range of great value for money upgraded polybushes, to almost any car – offering 25-30% more stiffness, which freshens up the handling on a tired road car, upgrades the suspension of a brand new road car or optimises handling on a race or rally car. They are versatile, cost effective, long lasting (up to 10 times longer than standard rubber units) and serve to prolong tyre life, improve handling thanks to their stiffer properties also; reduce inertia, increase safety through improved grip levels/better braking and cornering stability and they do not increase noise or vibration levels either. In short, fitting these is a bit of a no-brainer… hence the order of a full kit for the 12-year-old Project S4. Fresher, stiffer, faster!
Polyurethane has been used as a specialised plastic for 30+ years. Now, recent advances in technology and machining have made it possible to engineer very special properties into this exciting material, with no negative side effects (they used to be noisier, but not anymore, we are told). Suspension bushes are some of the most highly stressed components fitted to a motor car. They undergo enormous strains and in the most arduous of conditions with no maintenance or lubrication. The material 95% of manufacturers use for suspension bushes is a rubber compound containing natural products. These deteriorate with age, becoming softer and more pliable, resisting the forces placed on it less and less with time – becoming less effective, increasing inertia levels, reducing efficiency. This deterioration creates more and more movement of suspension components, in turn, offering less and less control over the suspension geometry. Worn bushes cause accelerated tyre wear, braking instability and poor handling characteristics. The result is sloppy handling… especially if you've upgraded to a new, stiffer, lower suspension kit like I have with Project S4. This just puts more strain on the already knackered rubber bushes.
So, in order to off-set 12 years and 67,000 miles of hard driving (20,000-odd in my heavy-footed hands, so to speak!), I went to town with the Powerflex order and got the lot. This includes: Front lower shock mounts, front tie bar rear bushes, front upper inner mounts, front swaybar bushes, rear lower arm bushes front and rear, front swaybar link bushes, rear upper arm outer bushes and rear upper inner mounts. Phew! That's 34 in total.
The kit arrived swiftly (the company has a wide range of dealers to chose from) and came in one of the best lots of neat packaging I've ever seen, all nicely branded. And they look fabulous in the Powerflex yellow and purple colours too… not that I'll be looking at them much, after fitting them! Just enjoying improved handling, reduced inertia and less tyre wear… hopefully.
If there is one downside to upgrading to polybushes, it's the fitting… which is a bit of a PITA, and usually involves swearing and labour costs if you are not confident doing it yourself. But Powerflex machine and manufacture each unit to fit well, and provide a little sachet of special lubricant for each bush package also, to get them in place and help them bed in and last well. It should be a breeze… for my multi-talented main man, Dave Green at Henstead Motorsport (http://www.henstead-motorsport.co.uk/)… Project S4 super technician of choice.
Naturally, as with everything we fit, we will report back with a road and track test very soon, here and via www.roadmagazine.blogspot.co.uk
And you can follow progress on Facebook too at: http://www.facebook.com/teamroad & http://www.facebook.com/roadmagblog.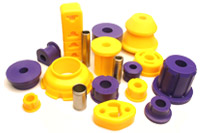 Join Powerflex on Facebook at: http://www.facebook.com/pages/Powerflex/189283524271